Monday, November 06, 2006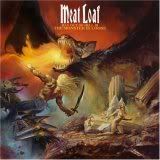 Last week, I picked up the latest release from Meatloaf. I've been a fan of his for about twelve years now. I got sucked in with I'd anything for love when that song came out. i just knew he was that guy in the Rocky Horror movie before that. I hadn't even heard of Paradise by the Dashboard Light. That was quickly fixed because I fell in love with the Bat out of Hell 2 CD. So when I heard Bat out of Hell 3 came out last Tuesday, I had to pick it up for myself. I was a bit skeptical because I saw Meatloaf perform live on the American Idol finale with Katharine McPhee, and I was just a bit thrown off by the performance. It just wasn't any good at all.

I grabbed the CD anyway, and I am so glad that I did. It is just classic Meatloaf. There is just something about the lyrics with him that always seem to get to me in someway. He's a bit theatrical and dramatic, but he makes it work. It is just how he is. One of my favorite songs on the CD is Blind as a Bat. Perhaps I love it so much because I can so relate to the lyrics to the song. Meatloaf also has a cover of It's all coming back to me now on the CD. This is the song he performed on American Idol, and the CD version is world's away from the live performance. No, Katharine doesn't join him on the track. I loved the song when Celine Dion did it years ago, and this version is nice too.

In other news, over the weekend I caught Roseanne's latest comedy show on HBO. I loved the Roseanne show so much, and she was funny here as well. The show was extremely heavy on the political humor, but the end of the show when she strips down to a leotard and started dancing around just made me applaud her. She's really a strong woman. You know she isn't small by any means, and some might say she should have kept the robe on, but she's a big woman that isn't ashamed of it. I'm not small by any means, so it is nice to see someone else saying "I'm me. I'm here. I'm happy. Deal with it."

In other celebrity news, Doogie Howser is gay. Well, Neil Patrick Harris is anyway. This is the second television actor to come out in the last month or so. T.R. Knight, George on Grey's Anatomy, came out in October following the on-set scuffle between Isaiah Washington and Patrick Dempsey when T.R. was five minutes late to the set. I think it is great to see some celebrity faces coming out. I know it doesn't change the way I see them. They are just people like everyone else. Who they choose to love doesn't affect my opinion of them any.