Saturday, August 06, 2005
I know I've already posted once today already, but I had to come on again to make two quick announcements.

Announcement One:

Author Marianne Mancusi came home from this year's RWA conference in Reno to find her home had been struck by lightning and burned to the ground. She lost everything. Since news of this first came to light and spread, many jumped in to send her books to rebuild her lost library of books. Other have denoted signed books and critiques that are now being auctioned on E-bay. The first of the auctions went up today, but more will go up in days to come. If there is anything you can do to help please check out Literary Chicks for details of where to send donations and for information on the auctions.

Announcement Two:

A posting from the ERWF Blog Circle on a new release: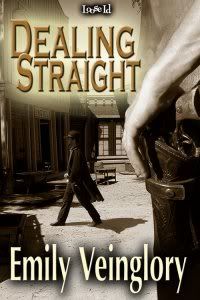 It's been a fairly busy month with my new gay western e-novella coming out from Loose-ID.

"Richard is worn out, used up, and just plain cynical. Son of a wealthy Bostonian banker, he came west to gamble and carouse when his life fell apart. Though a sensitive and moral man, he finds a reckless life easier to bear—since he has no one to care about and no real hopes for his future.

Brave, beautiful U.S. Marshall Wayne Sneddon wants to change all that. He enlists Richard to help him find and take down a bigwig out to get water rights for himself, regardless of the settlers in the way. In part, Wayne needs help, but more, he wants Richard's company.

In between the shooting, fighting and intrigue, Richard comes to share Wayne's feelings…but after he finds the courage to share Wayne's bed, will he find the courage to share his feelings?

Sometimes just about anything is easier than Dealing Straight."

To read an excerpt go here.