Wednesday, August 17, 2005
Thanks to everyone that commented on the new look. Changing the backdrop was one of the easiest parts HTML wise. The tweaking of the sidebar is what took the longest. I think it looks less cluttered. I might add back some quotes to the sidebar later, but for now I'm fairly set blog wise. After I finished, I did go off to write some, but I didn't get as much done as I wanted to. I'll type it up later. My mind was getting tired, so I quit and laid down to read. The other day I started reading Seeing Red by Jill Shalvis. I'm about fifty pages in right now, and I'm enjoying the story so far. I can't wait to get more into it. I really like the heroine so far, and the male seems to have a lot to him as well.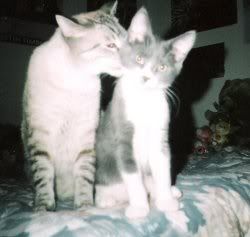 I have a quick kitten story. JJ is about 6 months now, and he is as hyper as ever. Since my hours are so off for him, he's wide awake when I'm dead to the world asleep. Well, yesterday morning around 8am I was woke up with a loud crash. I sat up and quickly looked around, finding my lamp on the floor. He had ripped the lamp shade right off and the lamp lay on the floor in two pieces. The actually lamp itself didn't break, but the lamp shade was a goner. Apparently, the lamp also blew the bulb when it crashed, and that was probably the loud sound I heard. I put the lamp away and went back to bed. Later on in the day, I was working on things, and I needed to print out something. I go to turn on the printer, nothing. No light. No sound.

I thought somehow when the lamp blew the bulb it had somehow also blew the printer right out. If that had been the case, you might have noticed a "Kitten for sale" post in my blog. I'd already had to buy new speakers, and a main factor in going wireless for my keyboard and mouse was because JJ likes to play with wires a bit too much, and my mouse or keyboard was always being pulled when I was trying to work. I calmly try to look for the problem. Calmly when you have a hundred dollar piece of machinery possibly dead, that is. After a few minutes, I discover the plug that goes into the adapter that goes into the back of the printer had been pulled out. I looked at it, and it didn't look like the work of the kitten because he leaves evidence. So I look at the older cat and just shake my head. Some time last week, the older cat had also figured out how to pull the keyboard plug that goes into the back of the computer as well. A family member caught him in the act when I was in the shower. He's supposed to be a positive influence! Sigh! They are lucky I love them.

In my post yesterday, I discussed a recent revelation I had about my own writing. I had another one as well that I had forgotten to mention, and it goes along with something I saw in Kelly's blog today. The last couple of days she has been talking about character development. Interesting thoughts there, so you might want to go check them out. Today she talked about internal conflict and back story. In my own writing, I've noticed I go very heavy on the internal conflict. Some that have read say I'm actually in the character's head too much, and its boring to read. Others have said that they like a lot of internal conflict. So where is the balance? Is there room for a lot of internal thoughts and conflict or do the reader's want the basics. I've seen stories that are bare boned with descriptions and dialogue that work, and I've seen others that more thoughts in the heads of the characters is there. I guess it might be a personal preference. How much internal conflict is too much? How do you find that balance? Thoughts?

One last quick thing before I go, my recap of last night's Real World episode is up here. Good episode. I enjoyed it. Tonight is So you think you can dance. I believe it is on for 2 hours tonight. I hope it doesn't turn into a snooze fest because last time the show went for two hours, it just dragged the second hour for me. More premiere dates for some of my favorite shows have been set. The O.C. is set for September 8th. I happen to love this show a great deal, although I still think I shouldn't because it is set mostly for teens, and I'm far removed from my teen years. I can't wait for the season to start. One of my favorite actresses, Jeri Ryan, is appearing in some episodes early on in the season.

I've rambled enough! Have a great day everyone.